United have won only two matches in the last ten something that has put coach Louis Van Gaal under a lot of pressure.
Their opponents on the other hand have not had it better either sliding to fifth place in the championships from an impressive top spot they were in on Boxing Day.
The situation provides a perfect opportunity for both sides to go for a win and with it feel inspired ahead of their up-coming matches.
For Derby United though they will be at home, their record against United does not favour them. They have lost all the previous FA Cup meetings against United. The most recent one was a 4-1 loss in 2009.
But Derby will want to remember the fact that they have only lost twice in the last 14 home games and hope this can inspire them against United.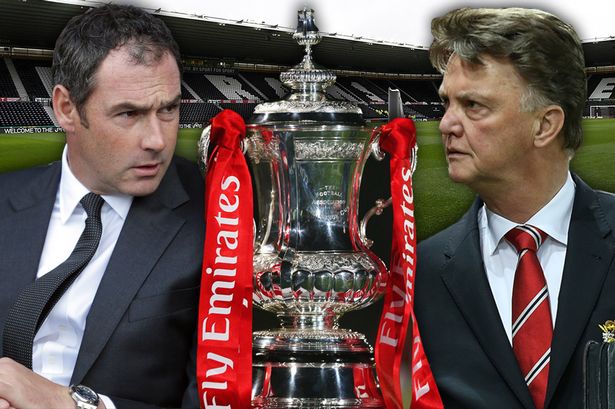 Though they are facing a lean time, it cannot be forgotten that United have won the second highest number of FA Cup titles standing at 11 just two behind Arsenal.
In total, there will be 15 FA cup matches this weekend where lower league sides will get an opportunity to try and cause upsets.
On Saturday, Arsenal who have won the highest number of FA Cup titles host Burnley at home and should have no problem dispatching their opponents.
The gunners are in desperate need of some motivation after their title ambitions were jolted following a 1-0 loss to Chelsea last weekend and beating Burnley should provide just that before they resume their title chase next week.
Colchester will take on Tottenham on Saturday as well. Lower league sides Bolton and Leeds will also battle it out on Saturday. Two key matches will be the highlight of Saturday's fixtures where Aston Villa takes on Manchester City and Liverpool hosts West Ham in all Premier League clashes.
Both Manchester City and Liverpool have qualified for the final of the Capital One Cup where they will meet on February 28 and go into their weekend matches inspired to add another cup to their cabinet.