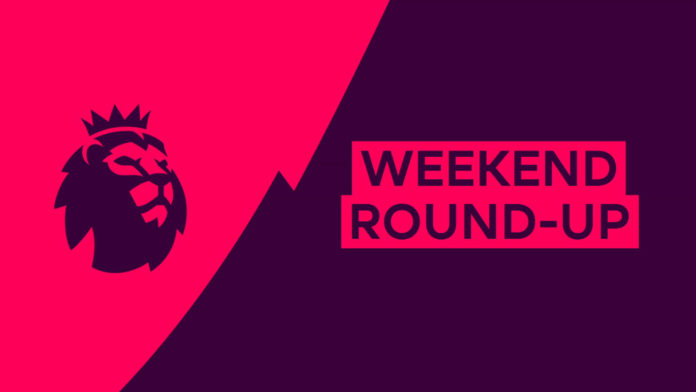 Manchester City continues to dominate the Premier League and hold a massive 15-point advantage at the top of the log despite seeing their winning streak come to an end.
England's top flight has seen no less than 21 matches played in the last week, starting with Arsenal's 3-2 away win over Crystal Palace last Thursday and concluding with last night's London derby between Tottenham Hotspur and West Ham United, which saw two superb goals from Pedro Obiang and Son Heung-Min.
Man City went into last weekend looking to rack up a 19th straight victory in the Premier League, but they were held 0-0 at Selhurst Park by Palace on Sunday. However, they were back in winning form just two days later as they overwhelmed Watford 3-1.
City's closest chasers also dropped points through the period, with Manchester United held goalless at home by Southampton on Saturday before a much-improved performance on Monday brought a 2-0 win away to Everton.
Chelsea also dropped two points in a thrilling 2-2 draw at London rivals Arsenal on Wednesday night, though several glaring misses from striker Alvarao Morata will have left the Blues frustrated at having missed out on the chance to leapfrog United into second place.
In fourth spot, Liverpool have enjoyed a good spell in the last week after claiming 2-1 wins over Leciester City and Burnley, and they are now very much in a four-way battle for three Champions League places with the Red Devils, Chelsea and Tottenham.
Down at the bottom of the log, Swansea City and West Bromwich Albion continue to occupy 20th and 19th place respectively, while they have been joined in the relegation zone by Stoke City, whose 5-0 thrashing at Chelsea was followed by a 1-0 defeat in a crucial match at home to Newcastle United.
Manager Mark Hughes has the dreaded axe hovering above his head and the Potters could well have a new man in charge when they head to Old Trafford for their next league fixture on January 15.
Premier League results in the past week, 28 December-4 January
Thursday 28 December
Crystal Palace 2-3 Arsenal
Saturday 30 December
Watford 1-2 Swansea City
Newcastle United 0-0 Brighton & Hove Albion
Liverpool 2-1 Leicester City
Huddersfield Town 0-0 Burnley
Chelsea 5-0 Stoke City
Bournemouth 2-1 Everton
Manchester United 0-0 Southampton
Sunday 31 December
Crystal Palace 0-0 Manchester City
West Bromwich Albion 1-1 Arsenal
Monday 1 December
Brighton & Hove Albion 2-2 Bournemouth
Burnley 1-2 Liverpool
Leicester City 3-0 Huddersfield Town
Stoke City 0-1 Newcastle United
Everton 0-2 Manchester United
Tuesday 2 December
Southampton 1-2 Crystal Palace
Swansea City 0-2 Tottenham Hotspur
West Ham United 2-1 West Bromwich Albion
Manchester City 3-1 Watford
Wednesday 3 December
Arsenal 2-2 Chelsea
Thursday 4 December
Tottenham Hotspur 1-1 West Ham United