Arsenal defended for 71 minutes only to crumble as Lionel Messi scored twice to put Barcelona in total control of their round of 16 Champions League match at the Emirates Stadium on Tuesday night.
The Gunners are staring at a sixth successive exit of the last 16 stage of the Champions League unless they pull a miracle in the return match at the Camp Nou.
Arsenal fought courageously for a better part of the match and even had a couple of chances to take the lead in the first half with Alex Oxlade-Chamberlain and Olivier Giroud coming close.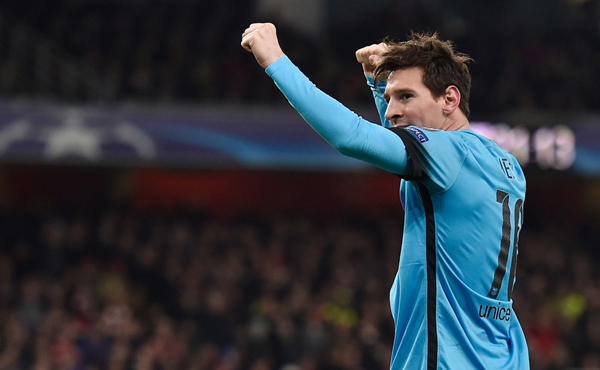 But the Gunners who could not match Barcelona's super stars Messi, Neymar and Luis Suarez conceded the first goal in the 83rd minute and it was from a blistering counter-attack.
The Gunners had pushed most of their men upfront looking for the opening goal and forgot to cover their backs. Taking advantage of the situation Messi beat Petr Cech at the far post from a move initiated by Neymar who had been put through by Suarez.
The Argentine star killed off Arsenal seven minutes later scoring from the penalty spot after substitute Mathieu Flamini floored Messi with a mistimed challenge.
Even after that, Barcelona were not done yet as Suarez hit the post from close range and Neymar's header went just wide. From the result it looks likely that the Gunners will once again as it happened in 2010 and 2011 be edged out by the Catalan side.
Bayern Munich VS Juventus
In the other match on Tuesday night, Bayern Munich failed to hang onto their two goal advantage allowing Juventus to equalize as the match ended 2-2.
The German side were ruthlessly in control of this fixture after Thomas Muller and Arjen Robben scored in the 43rd and 55th minutes.
But an incredible Juventus come-back was not going to allow Bayern to carry a two goal advantage into the return leg.
First Paulo Dybala tucked home in the 63rd minute and then Stefano Sturaro completed the come-back poking home from close range in the 76th minute and with it exposed the defensive frailties of the Bayern Munich side.