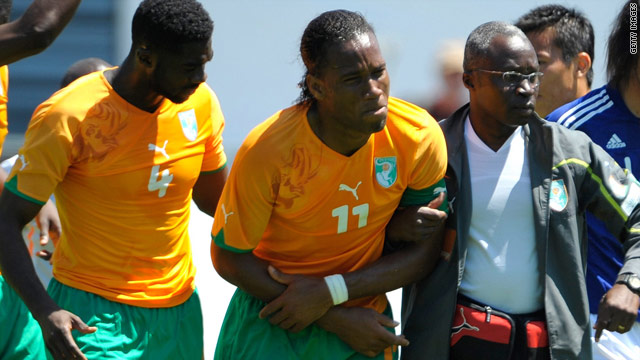 It is the first time a World Cup tournament has been hosted in Africa and your squad includes not only the most famous African footballer but one of the world's best and most respected footballers. Ivory Coast must have been smiling from ear to ear, the man leading the squad was none other than Didier Drogba, who was, in fact, one of the faces of the 2010 World Cup. He had won the African Footballer of the year twice and he had scored six goals in five qualification matches to help his team qualify.
But, the smiles soon faded as horror struck during a World Cup friendly against Japan. In the 17th minute, Drogba received a high challenge from Tulio Tanaka and he went down. It was obvious he was in immense pain and severely injured. Drogba had broken his arm and it was later confirmed he would need to undergo surgery. With 11 days until the tournament Drogba and his teammates, World Cup dreams were in the balance.
Ivory Coast coach Sven Goran Eriksson said after the game:
"It's an elbow injury for sure. How bad it is, I don't know. He had a lot of pain. Of course I am worried, he's our captain and one of the best players in the world."
Watch Drogba's entrance against Portugal
Drogba needed to wear a protective cast on his arm when he played and luckily FIFA approved the wearing of this based on the circumstances.  There first match was against Portugal and Drogba was not on the starting line but, benched as a precaution. In the 66th minute of the match, Drogba was subbed onto the pitch much to the delight of the crowd who cheered and gave him a standing ovation. The game ended in a 0-0 draw.
Unfortunately for the Ivory Coast they were also in one of the strongest groups and had to face off to Brazil next where they suffered a 3-1 defeat. They then beat North Korea 3-0 but it wasn't enough as they finished third in the group stages.