Liverpool will take a two nil lead to Old Trafford after a dominant display against man United. Daniel Sturridge converted from the spot after being fouled by Memphis Depay followed by a second from Roberto Firmino after a mistake by half time substitute Michael Carrick.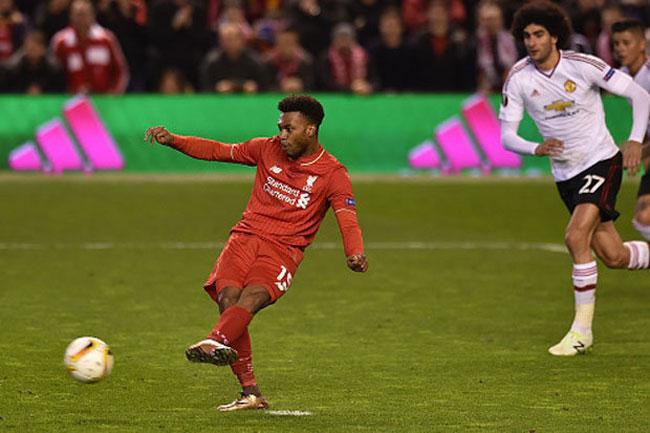 Liverpool utterly dominated the first ever European encounter between England's most successful sides at Anfield with the lion's share of possession and numerous chances throughout the game. The first goal, a penalty scored by Daniel Sturridge, was a result of a somewhat contentious penalty decision against Memphis Depay who brought down Nathaniel Clyne. It seemed to be a fifty-fifty call and could have gone both ways but the ref chose to give the spot kick and book Memphis in the process before Sturridge duly converted from the spot. Roberto Firmino made it two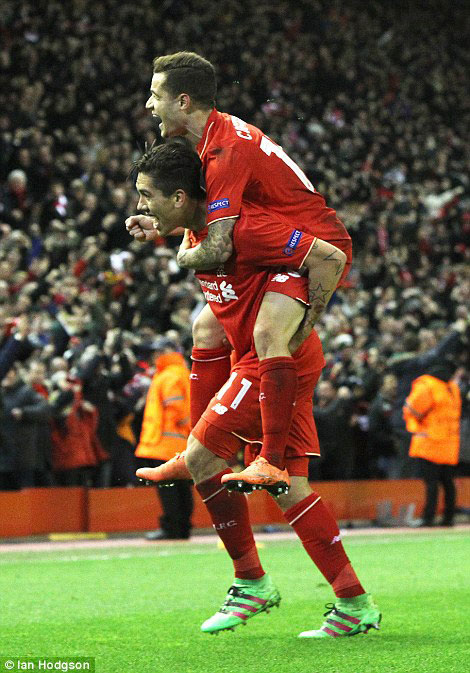 Liverpool were hard pressing, quick and slick in their approach to the fixture and united had no answer. The Merseyside outfit was just too good and the stats speak for themselves.  Klopp's charges had 13 shots on goal to United's 5 and of those 8 were on target compared to a paltry 1 from United. It's surprising that Liverpool only had 56% possession as it seemed like they had a lot more. In the same vein, Klopp could justifiably be a little disappointed that the tie isn't dead and buried as his side could have scored a lot more goals were it not for the outstanding David De Gea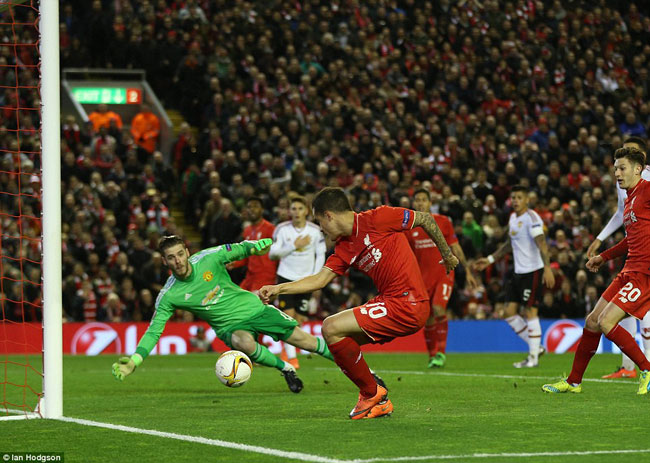 De Gea once again proved his worth to Manchester United with a string of breathtaking saves that kept his team in the game. His first half point blank stop from Filipe Coutinho was simply outrageous and he continued to frustrate the opposition throughout the match with a brilliant performance between the sticks. He was the only shining light in what was a dull performance punctuated by Louis Van Gaal's truly bizarre tactical decisions. The Dutchman started Rashford in an unfamiliar right wing position while Fellaini went straight back into the team. Van Gaal had the option of playing Antonio Valencia on the right wing but chose not to and made it worse by pulling Rashford off at halftime to replace him with Carrick. As if united fans didn't already despise their manager, he reverted to three at the back which was a wretched tactic last season but he felt it was best to resort to his worst formation in this most important of games. A shambolic performance tactically on and off the pitch from United. De Gea was the difference between a good win for Liverpool and a hammering for United while Van Gaal was left looking like an amateur manager at his first rodeo. This couldn't have been a more one sided fixture and the Reds of Merseyside will feel confident of wrapping this tie up at Old Trafford on the 17th of March.